Disposable Medical Protective Clothing
3A Sanai has introduced a non-woven PPE suit with taping. 360-degree protection is now achievable with elastic wrists, elastic ankles, elastic hood, and the most important, the snug-fit. 
It enhances breathability and offers long-lasting comfort for the medics and the paramedic's staff. Also, it allows full-coverage protection in the hazardous environment. 
At the end of the day or whenever one deems fit to dispose of the PPE follow a protocol so that they don't end up touching the front surfaces of PPE, which may have been exposed to aerosols. Pulling through the sleeves to catch the inner surfaces and then rolling inside out with a pair of gloves is an ideal way to dispose of.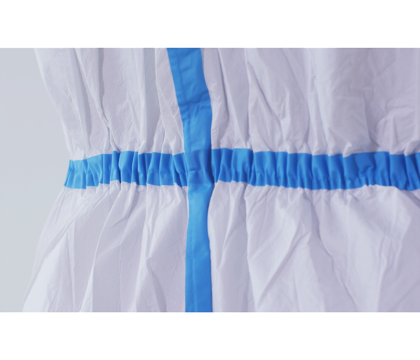 Available in: 160 (S), 165 (M), 170 (L), 175 (XL), 180 (XXL)
1 piece/bag, 50pcs/carton 

Net Weight: 14kgs

Gross Weight: 15kgs 
Frequently Asked Question
Approval & Certifications
Send us a message to get a personalized quotation with up-to-date prices or for any other questions. Our team would be more than happy to get back to you ASAP.